courtesy of BIVB
BOURGOGNE WINES IN MANDARIN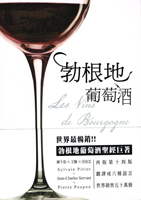 The Book "Les Vins de Bourgogne" by Sylvain Pitiot and Jean-Charles Servant has just been published in Mandarin.

Over 400 pages, it includes 65 maps of regions and appellations as well as 30 illustrations and all the information you need to know about the Bourgogne region and its wines.

This reference work, first published in 1952 and at that time, authored by Pierre Poupon, is now in its 14th edition.

It is available in French, English, Japanese, Korean, German and Mandarin.